Dramicoat Anti-Corrosion Coating
DRAMICOAT - UNBEATABLE EXPERIENCE IN REFINING AND PETROCHEMICAL INDUSTRIES
The sulphur, present in all fuels, converts to sulphur oxides on combustion and then to acid at lower dew point temperatures on contact with water vapour. These acids and their combined chemicals (polythionic acid) migrate through the refractory linings and attack the anchor weld points and steel casing, causing large, expensive repairs to the process plant.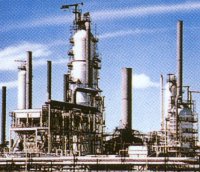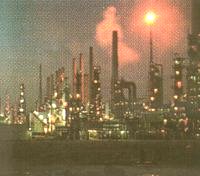 Dramicoat has been successfully used, for the past 25 years, to protect steel casings and anchor supports in all types of heaters, ducting and chimneys.
Dramicoat has excellent adhesion to metal surfaces, without the requirement to sand blast clean the metal - wire brushing to remove loose impediments is all that is required.
Coverage: In severe aqueous or atmospheric conditions 0.6m² per litre to yield a thickness of 1.5mm.
Dramicoat contains no solvents and is very safe to apply, unlike competitive materials, which contain solvents with flash points of 42C. These solvents prevent other activities taking place in the same area, such as welding and also require ventilation to protect the applicators.
Dramicoat is a permanently flexible, non-oxidising anti-corrosive coating applicable from 26ºC to 204ºC, which is applied in one thickness. The permanent flexibility of the product allows it expand and contract with the changing steel temperatures. Competitive products need several passes to achieve thickness requirements, 24 hours setting time before refractories are applied on top, which costs time and money. Competitive materials harden on drying out and crack in expansion/contraction conditions exposing the steel to corrosion attack.
Dramicoat is easily applied by hand, brush or palette knife. Low skill application requirements means that the product can be applied anywhere in the world, without expensive compressed air equipment.