Dramicom Polypropylene & Polyethylene Fibres
When Dramicom synthetic fibers are added to refractory castables at dosage levels of 0.02% to 0.05% w/w, full dispersion of the fibers is achieved using normal mixing equipment. After air curing the refractory castables are heated and fired to the operating temperature of the lining. At low temperatures, the (128 C for PE and 145 C for PP) the Dramicom synthetic fibers soften, shrink and finally burnout leaving capillaries, which interconnect through the refractory mass. These capillaries allow the free or combined water to escape efficiently from the refractory mass, thereby preventing the formation of superheated steam and consequential pressure building up, and catastrophic explosions.
Synthetic fibers allow faster heat up schedules. Care should be taken from ambient to the melting point of the fibers, then substantially higher heating rates can be used. This provides cost savings for the end user and reduces the risk of lining failure.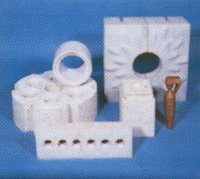 Dramicom Polyprop 20: 18 microns diameter ( 2.8 dtex ), providing 600 million fibers per kilogram, for use in specialty castables. e.g. Low cement castables.
Dramicom Polyprop 40: 49 microns diameter (17 dtex), a larger diameter, which provides fast dispersion into castables. This is recommended for general refractory use and particularly for gunning grades of castables.
Dramicom Polyethylene 40: 49 microns diameter, with a lower melting point than Polyprop, giving extra insurance against explosion failure.
Benefits:
Efficiently removes excess water
Reduces Thermal Stress
Eliminates explosive failures
Disperses rapidly
Easy to handle
Low cost